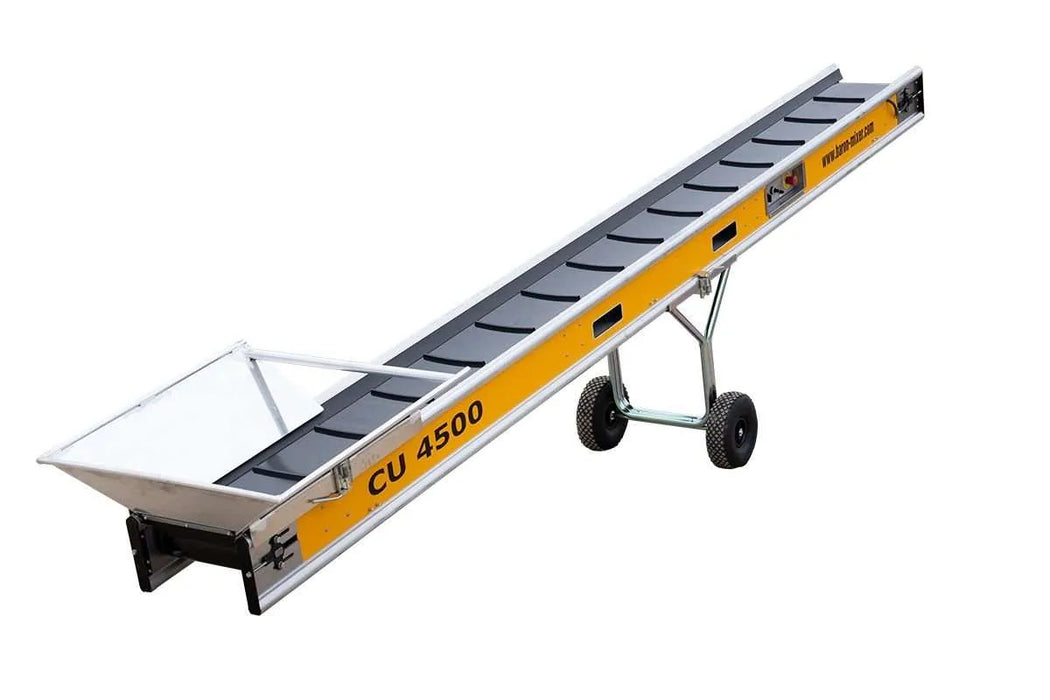 Baron - clever conveyer
Original price
€0.00
-
Original price
€0.00
Move Products Efficiently and Safely with Baron Conveyor Systems, Ideal for Hire Industry, Removal Companies and General Builders.
What is the Baron Conveyor?
More frequently than ever, building projects are going down and up. In heavily built up areas we are observing a trend to build down into basements or build up to add much needed additional space. This is where the Baron Conveyor really comes into its own. The conveyor creates a labour-reducing solution for working at mixed elevations and in basement excavations. The 4.5metre conveyor belt will transport construction material from one location to another across levels. With a high load capacity, the conveyor will move demolition debris, soil, wet mortar, loose rubble, bagged cement and more. Whilst it is a very popular and useful machine within the construction sector, it is a valuable piece of kit in many industries.
Efficient, productive and cost-effective…
The Baron Conveyor is a very robust and durable machine designed using high quality materials. This top-grade construction includes a fully welded aluminum jig ensuring a strong undercarriage. Coupled with a hard-wearing PVC belt, this conveyor has optimum pulling power and is able to withstand heavy use and handling. It is part of a intelligent, new generation of machine that adapts itself to any site. It is a highly efficient, productive and cost-effective machine to invest in. Furthermore moving material by hand/wheelbarrow is backbreaking and time consuming work. However, this a job that the Baron conveyor can easily handle. Above all, the investment in this machine will pay for itself in the labour and time you will save.
Safe and Simple to Operate…
Safety is paramount with the Baron Conveyor. For example, the closed side profile ensures material does not fall from the sides of the belt. Also the electric parts are securely housed. There are no rollers beneath the unit which makes it very reliable. The conveyor is simple to operate. For instance, it is fitted with variable speed control and adjustable direction of travel (forwards and reverse). It is low weight which enables it to be maneuvered by a single person. In addition, it has forklift brackets fitted to allow easy movement across site.
It is designed to be flexible and easily customised to the task. With the free placement of the hopper and wheels it really can be adjusted to suit any job. Add to that the fact you can connect up to 8 conveyors and you can really streamline your heavy workload. Finally, the Baron Conveyor is a compact machine that can by stacked for quick and easy storage.
Key Information:
High-load capacity

Labour-reducing solution for mixed elevation work

Moves demolition debris, soil, wet mortar, loose rubble, bagged cement and more

Robust and durable, construction from high-grade aluminium 

Hard-wearing PVC belt

Electrical parts securely enclosed

Closed side profile to limit material falling

Variable speed control and adjustable direction

Low weight, portable by 1 person

Flexible design 

Quick and easy to maintain
These Baron Conveyors make an excellent addition to hire fleets with smart telematics protecting investment for Owners and End Users. 
Building Contractors, Removal Companies, Landscaping Contractors, Industry and many more demographs are seeing the benefits of the Baron Conveyors, have you??
If you would like to discuss this item further or explore other options outside this scope then please do speak with a Member of the AccurA Team, who'll be happy to give you expert advice, please call 016105055 or email info@accura.ie