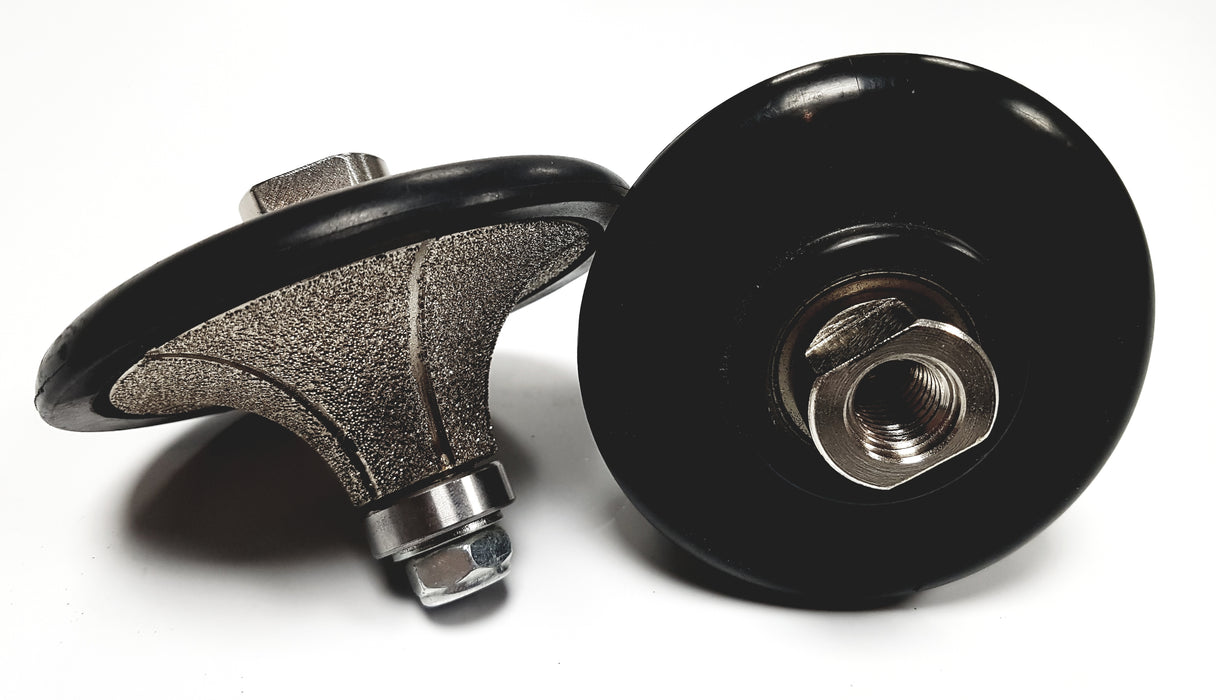 Bull Nose M14 20mm /30mm -Angle Grinder Thread
Original price
€129.00
-
Original price
€149.00
Description
A. Full Bullnose -20mm/30mm Depth
B. Half Bullnose-20mm/30mm Depth
C. Bevel Chamfer 30mm 45° 30mm Depth
The Diamond Bullnose Profiling Tool is a vacuum brazed diamond profiling tool for applying a rounded, half or full bullnose finish to the edges of Stone, Porcelain tiles or Slabs.
Designed for use on variable speed hand held grinders and polishing machines with M14 thread fitment. The tool operates in two halves, each spins independently on separate bearings for smooth operation. The top guide keeps the tool perfectly aligned to the slab, and the centre bearing keeps the shape consistent.
The Diamond Bullnose Profiling Tool used top quality diamonds that are vacuum brazed for maximum longevity. Use wet to get the maximum lifespan out of the tool. The lifespan of the tool when used wet is around 100 linear metres on marble, before a replacement is needed. May vary with different stones.
Edge profiling tools for angle grinders are tools that grind the edge of a piece of granite, quartz, marble, ceramic or natural stone slab with an angle grinder. They have an M14 thread so can be used on most standard angle grinders. The M14 CH BE shape produces a 45° Bevel Chamfer profile.
They can be used to quickly create shape edges without expensive machinery and are ideal for on-site fabrication. They remove all stock required to prepare a stone edge for polishing. These tools are made for dry working. They do feature water feed holes so can be used wet, apart from the 3mm and 5mm size which are for dry use only.
Must be used under 4500rpm, with a ideal speed of circa 2000rpm, material dependent.
If you wish to speak with an expert from the AccurA team call 01 610 5055 or email info@AccurA.ie