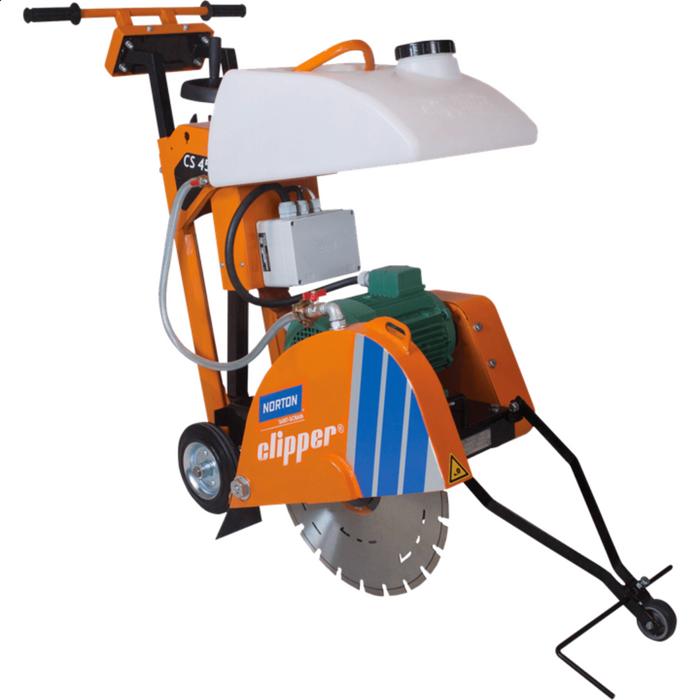 Clipper CS451 D 170mm Depth- Diesel Roadsaw/Floorsaw
Original price
€0.00
-
Original price
€0.00
Diesel Powered  Road Saw / Floor Saw
The CS451 D needs no real introduction other than by stating that it is THE No.1 selling floor saw of its type/class.
The compact size, ease of use, manoeuvrability and high power to size/weight ratio of the CS451 D makes it an ideal saw for small road repair jobs, patching, reinstatement work, cutting trenches for pipe laying, making expansion joints in concrete floors, cutting out channels for impedance loops or cable laying, and much, much more!
The CS451 D is a new generation of compact floor saw offering by Clipper which combines robustness with functionality and which has been specifically designed to significantly reduce vibration levels to the operator (by up to 40% over other leading floor saw models), thereby providing the operator with improved comfort levels.
Tested according to the latest European Standard, EN12096/EN13862, the vibration level recorded for the CS451 D was one of the lowest in the market and allows the user to operate the machine all day whilst remaining inside the recommended HAV exposure level.
The CS451 D has crank handle depth adjustment and adjustable handlebars which provide the operator with an ergonomic and comfortable working position, whatever the cutting depth.
The CS451 D has a 25-litre, high-capacity, removable polyurethane water tank, making it ideal for the wet and dry cutting of concrete and asphalt.
• Cutting on the right-hand side only
• Frame and handlebar equipped with vibration absorbers
• Height and width handlebar adjustment
• Depth indication gauge
Clipper CS451 D
Hatz Diesel, 2- Cylinder 5.2KW   7 HP
Blade Min Ø 350mmCut Depth 125mm
Blade Max Ø 450mmCut Depth 170mm
Right Side Cut Only
120kg
If you would like to discuss this item further or explore other options outside this scope then please do speak with a Member of the AccurA Team, who'll be happy to give you expert advice, please call 016105055  or email info@AccurA.ie