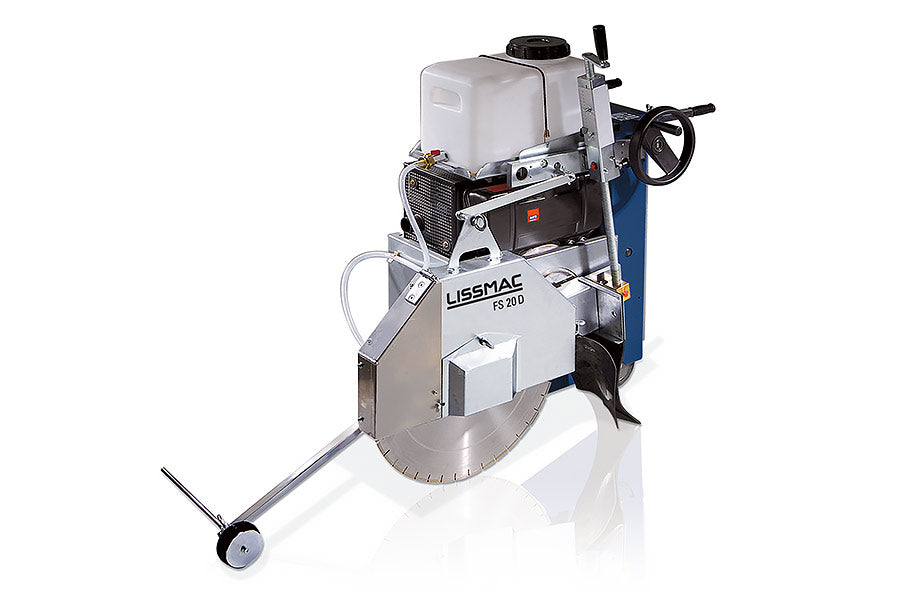 Lissmac FS 20D 270mm Depth- Diesel Roadsaw/Floorsaw
Original price
€0.00
-
Original price
€0.00
Diesel Powered  Road Saw / Floor Saw 270mm Depth Cut
The compact "power package" from LISSMAC proves that floor saws do not have to be large and unwieldy: the FS 20 is not only extremely powerful and equipped with convincing technology.
Particularly compact construction
The hand cranked travel enables a uniform cutting rate, guaranteeing a straight saw cut, thereby extending the life of the saw blade – lower cutting costs.
The FS 20 is also available with electric power travel, ideally suited to heavy cutting in concrete or asphalt.
For longer service life – the vertically positioned engine guarantees permanent oil supply in every cutting situation
Lowering and raising the saw blade is done smoothly, therefore preventing damage to the saw blade
Clear and ergonomic arrangement of the instruments
Saw hood front can be raised for intersections
The rear running wheel sits outside of the saw cut. This makes recutting of cut joints easy.
The LISSMAC swivel arm principle saves time and money. Long times for converting from left to right cut are eliminated by the 180 degree swivel saw arm  
Large water and fuel tanks reduce down-time to a minimum.
Parking brake, water saving flange spraying and saw cutting depth indicator are standard equipment.
Lissmac FS 20 D
Hatz Diesel, 1D801Z  Single Cylinder- 10.1 KW  / 13.7 HP
Blade Min Ø 350mmCut Depth 125mm
Blade Max Ø 600mm Cut Depth 220mm Or Optional Ø 700mm Depth 270mm
Dual Side Cut
Weight 263kg
If you would like to discuss this item further or explore other options outside this scope then please do speak with a Member of the AccurA Team, who'll be happy to give you expert advice, please call 016105055  or email info@AccurA.ie