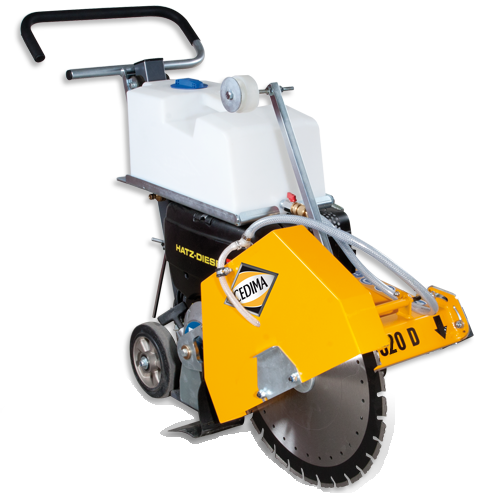 Cedima CF-1020 D 200mm Depth- Diesel Roadsaw/Floorsaw
Original price
€0.00
-
Original price
€0.00
Diesel Powered  Road Saw / Floor Saw 200mm Depth Cut
Despite their compact dimensions, the joint cutters CF-1020 B and CF-1020 D are able to achieve a cutting depth of up to 200 mm. Due to the extremely low assembly position of the drive motor, the balance point of the machines has strongly been relocated downwards, thus achieving a high steadiness.
removable water container with an extra large filling opening
large hand wheel for precise cutting depth adjustment
mounting of the saw blade on the right or left side
comfortable blade mounting by a hinged blade guard
ergonomically designed and height-adjustable machine handle for low vibrations.
The CF-1020 D has a 30-litre, high-capacity, removable polyurethane water tank, making it ideal for the wet and dry cutting of concrete and asphalt.
• Cutting on the right-hand side and left-hand side
• Frame and handlebar equipped with vibration absorbers
• Height and width handlebar adjustment
• Depth indication gauge
Cedima CF-1020 D
Hatz Diesel, 1B40 Single Cylinder- 7.3KW   9.8 HP
Blade Min Ø 350mmCut Depth 125mm
Blade Max Ø 500mm Cut Depth 200mm
Dual Side Cut
142kg
If you would like to discuss this item further or explore other options outside this scope then please do speak with a Member of the AccurA Team, who'll be happy to give you expert advice, please call 016105055  or email info@AccurA.ie