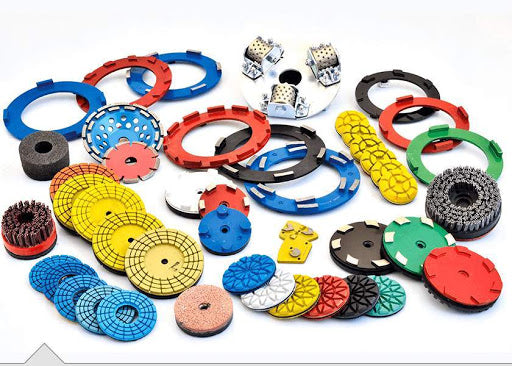 Klindex/HTC Diamond Tooling
Original price
€0.00
-
Original price
€0.00
Diamond Tooling to fit Klindex & HTC Machines 
We can supply Tooling to suit your Klindex and HTC Machines , We can supply Bonds with multiple grits for Hard, Medium and Soft
To choose the right diamond floor grinding tools, you must know the hardness of your concrete and grits sequence to give your desired finish.
Metal & Resin Bonds Numerous Segment Choices
Concrete can be identified by the terms…. Established, Green (Fresh up to 72Hrs Cure) Micro-Topped, Soft, Hard, Abrasive, Dusty and Brittle etc. No two floors are ever the same, typically they are more abrasive when the floor is new or have a high sharp sand content. The more abrasive the floor the harder bond you need to get the best performance out of the diamonds.
Bond is as important as the diamond grit size and concentration. The strength of the metal binder that holds the diamond grit in the segment. Typically the harder the bond the longer the life. Soft concrete needs hard bond, medium hard bond for medium concrete and soft bond for hard concrete. This ensures diamond offers optimum performance in its exposure.
If you would like to discuss this item further or explore other options outside this scope then please do speak with a Member of the AccurA Team, who'll be happy to give you expert advice, please call 016105055  or email info@AccurA.ie