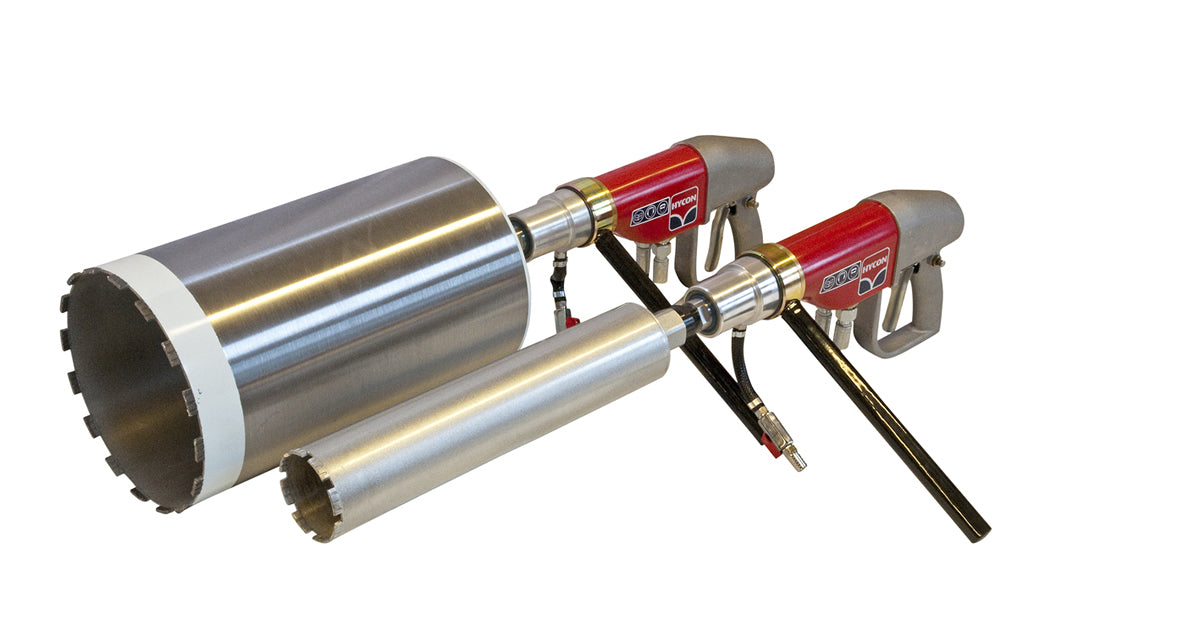 HYCON Handheld Hydraulic Core Drills HCD25-100 / HCD50-200 25mm-350mm
Original price
€0.00
-
Original price
€0.00
HYCON Handheld Hydraulic Core Drills
The HYCON handheld hydraulic core drills can be used both in standard rigs and as handheld tool, which adds significant flexibility to the product.
The performance of the core drill allows for drilling of holes up to ø350 mm in all materials - also with reinforcement.
Therefore, investing in ONE of the HYCON core drills will give you the opportunity to do many different kinds of jobs.
All parts run in oil - a guarantee for long life and low service costs. The tool is unaffected by water, dust, etc. 
The core drill comes with a build in hydraulic torque limiter, which assures max torque and no kickback if the core drill jams. However, in case of jamming, always loosen the core bit from the material, before you start drilling again.
Additional features:
Safe handheld drilling in reinforced concrete and asphalt up to ø350mm diameter in confined spaces - for ventilation, heating, gas piping and other applications.
Handheld drilling - no rig required.
Low weight - direct hydraulic drive.
Standard 1/2" BSP and 1-1/4" UNC core bits, dry and/or wet drilling - optimum flexibility.
Safety - automatic stop if the core bit jams.
Variable rotation speed - ensuring safe start and stop.
100% hydraulic with no electric hazard in wet working conditions - even under water.
All parts run in oil - insuring parts long lifetime.



Use without a Power Pack it can be powered by Hoses from an Excavator, Skid Steer or JCB and other plant with ample hydraulic flow. Please see below or search on this ecommerce site.
HYCON Oil Flow Divider - HFD: 
The HYCON HFD Oil Flow Divider replace the need for power packs and is perfect to drive all HYCON tools on worksites where there already is an hydraulic machine like a backhoe, skidsteer or mini excavator in place.

Simply connect the preset HFD to the Hydraulic Power Take Out (PTO) and you are assured correct flow, pressure and rotation on saws, pumps and other tools needed on the jobsite.
The HYCON oil flow divider has 3 built-in functions:
Output oil flow control by the build in flow regulation valve.
Maximum tool working pressure ensured by a pressure relief valve.
Ensures the correct oil flow direction by a check valve.


There are two options offering a large range of Core Drilling diameters, please see the below table for detailed technical specifications to aid your decision making.
Technical Specifiaction
Product Code

HCD25-100

HCD50-200

Product No

3030150

3030050

RPM / Drilling Diameter Min-Max (mm)

1500/25-100

600/50-350

Working Pressure (bar)

100

100

Max Pressure (bar)

172

172

Oil Flow(lpm)

20

20

Noise Level (Lpa dB)

84

80

Vibration Level (m/s)

<2.5

<2.5

Weight(kg)

7.6

7.6

Spindle Thread Fitting                                           ½" BSP Female with 1 ¼" UNC Male Adaptor Included
If you would like to discuss this item further or explore other options outside this scope then please do speak with a Member of the AccurA Team, who'll be happy to give you expert advice, please call 016105055 or email info@accura.ie