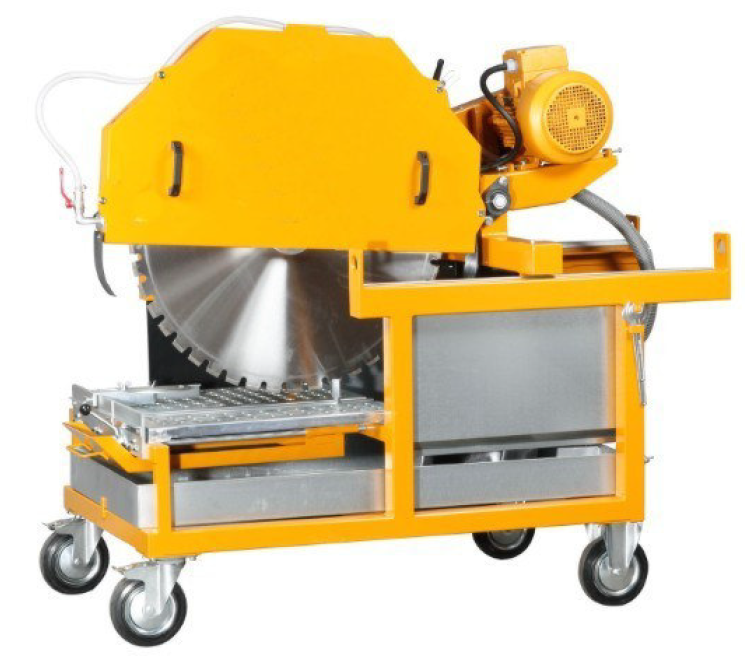 JMS K900 Jumbo Mobile Saw-3 Phase - Block/Brick Saw
Original price
€5,449.00
-
Original price
€5,449.00
The Jumbo 900 block saw is an easily manoeuvrable saws deigned to facilitate the cutting of large manageable pieces of natural stone and similarly sized masonry/building materials, concrete products etc.
Mounted on four lockable wheels, the Jumbo 900 is ideal for static installation or mobile site cutting applications. In order to physically accommodate larger work pieces, the Jumbo range have a fixed material table which can be loaded from overhead. All controls are mounted on the side of the machine, allowing the cutting head to traverse without impediment, via a hand wheel mechanism.
Features & Benefits
• Integral water tank with re-circulating water feed permitting dust free cutting
• Hand wheel feed cutting head traverse
• Side mounted controls for increased safety by virtue that the operator is remote from the cutting process
• Spring balanced lockable cutting head, easily raised and lowered by hand
• Consistent depth cutting, aided by means of an indicated graduated scale 
JMS K900 Jumbo Mobile Saw
Power Electric 3 Phase 7.5Kw
Blade Diameter 900mm/60mm Arbor
Cut Length 1000mm / Cut Depth 370mm
Weight 360kg
Colour Choice for Corporate identity.
**Cut Multiple Blocks in one pass at a time at various angles
This model saw is used on Various sites for Ireland's Premier Construction companies, including the AVIVA  Rugby and Football Stadium by John Sisk & Co.
If you would like to discuss this saw further or explore other options outside this scope then please do speak with a Member of the AccurA Team, who'll be happy to give you expert advice, please call 01 610 5055 or email info@AccurA.ie