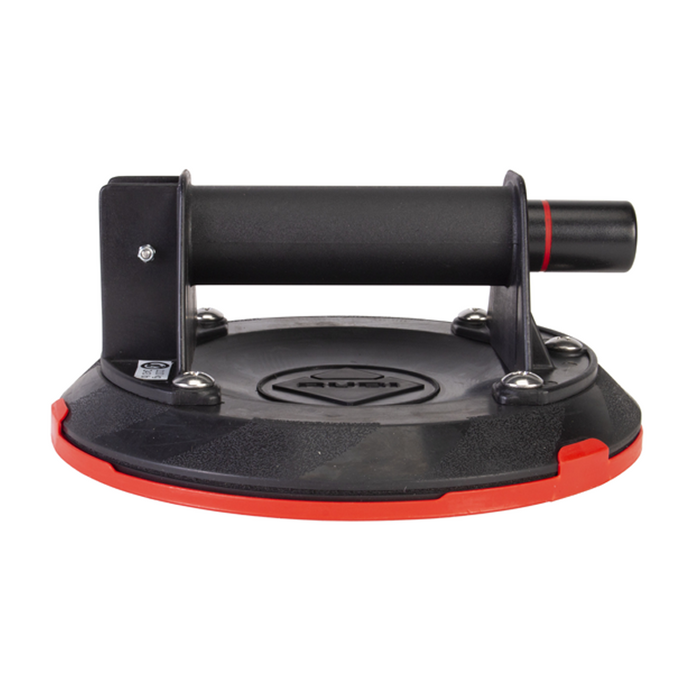 Rubi 18919 - Suction Cup with Vacuum Pump 110kg Load
Original price
€89.00
-
Original price
€89.00
Suction Cup Ideal for Landscapers and Tilers working with Heavy Porcelain Tiles
The suction cup with vacuum pump is deal for loading and handling heavy materials regardless of the type of surface finish. The suction cup with vacuum pump adapts to both smooth and rough surfaces, as well as those with varied (structured) textures. The diameter of 20 cm of the suction cup with vacuum pump, is perfect for the manipulation of large format tiles or ceramic sheet. The manual vacuum pump is easily activated with a single finger and is equipped with a safety mark that indicates the loss of suction and reminds us of the need to pump again to retain the vacuum load in the suction cup. In addition, the vacuum suction cup has a manual pressure release valve to easily remove the suction cup from the manipulated material. The vacuum pump Ø20 cm is served in a practical case-suitcase, to protect and transport it with maximum safety. A suction cup in poor condition is not safe or reliable.
Suction cup for handling large and heavy tiles.
Adapts to any surface finish.
Suction applied by manual vacuum pump.
Load loss indicator (red mark).
Pressure-release mechanism.
Maximum load capacity: 110kg.
**Caution: if used with additional Suction Cup Lifters this does NOT Increase the Overall Load Bearing Capacity of each individual cup. The maximum in all circumstances does NOT Change.
If you would like to discuss this item further or explore other options outside this scope then please do speak with a Member of the AccurA Team, who'll be happy to give you expert advice, please call 01 610 5055 or email info@AccurA.ie