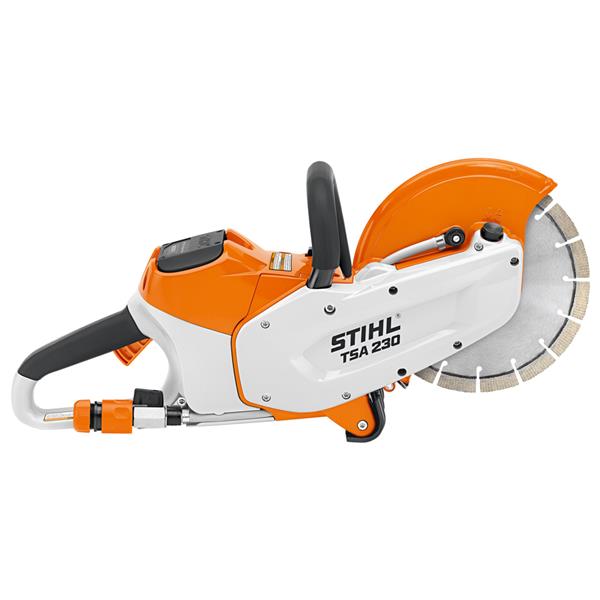 TSA 230 36 Volt Battery Powered Cordless Consaw Cut off Saw
Original price
€899.00
-
Original price
€899.00
STIHL is proud to introduce the world's first 9" cordless cut off saw. Cutting neatly and swiftly up to 70mm deep, the TSA 230 is ideal for cutting roofing tiles, bricks, metal and paving blocks. It is particularly light at only 3.9 kg (without battery). Emission-free cordless technology benefits both the operator and environment whilst allowing the tool to be operated indoors and outdoors. The water connection and vacuum accessories ensure effective dust control when cutting. Supplied with an abrasive wheel for cutting steel.
Ideal for Roofer and Landscapers as well as General Contractors, who are governed by weight,
Features:

Low-Maintenance Motor Technology
The EC motor with a maintenance-free belt drive and enclosed control unit is very durable and low maintenance.

Magnesium Guard
The cutting wheel guard is made from a light and durable die-cast aluminium.

Ergonomic Handle
The ergonomic wrap-around handle allows for a more comfortable and precise use in a variety of positions.

Spindle Lock Mechanism
Cutting wheels can be changed quickly and easily.

Stihl Electric Motor (EC)
The STIHL electric motor (EC) is extremely energy efficient, lightweight and compact. It runs quietly, generates very low vibrations and does not require servicing.

Hose Attachment
Water is supplied to the cutting wheel through the standard water connection with a sprinkler system to suppress the dust produced during cutting. It is supplied to the device in such a way so as not to interfere with your work.

Coasting Brake
Electronic coasting brake brings the blade to a quick stop. No free-wheeling.
Diameter of Cutting Disc- 230mm / 9"
Weight (Without Battery) 3.9 kg
Run Time With AP 300 - Up To 18 Mins
Run Time With AR2000 -Up To 75 Mins
Sound Pressure Level -103 dB(A)
Sound Power Level -114 dB(A)
Vibration level left/right -3.5/3.5 m/s²
If you would like to discuss this item further or explore other options outside this scope then please do speak with a Member of the AccurA Team, who'll be happy to give you expert advice, please call 016105055 or email info@accura.ie