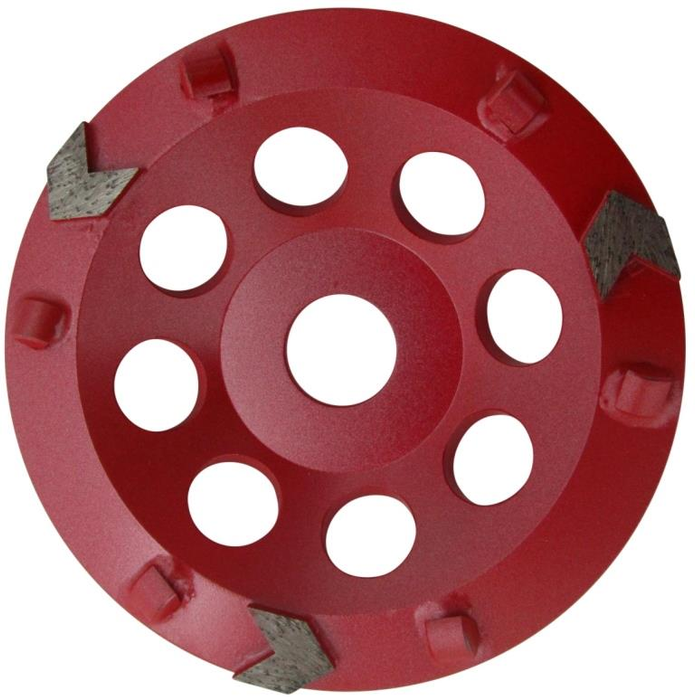 DH4006 PCD-Circular + Arrow Shaped Segments Combi
Original price
€145.00
-
Original price
€169.00
Specifications: High quality arrow shaped diamond segments made of an especially developed arrow - diamond bond support the effective working PCD- segments, Segment height 4.0 mm. Primarily used for removing heavy coatings. Very fast and highly efficient working even on problematic coatings. The very effective segments allow an easy and smooth machine guidance. Very good tool life in coatings.
Applications: For removing filler, coatings, sealants, paint coatings, adhesives, bitumen, epoxy and mastic asphalt.
Part No

Grinding Cup

Segment #

Ø Cup mm

Ø Hole mm

Height mm

DH4006.125.6.3

125

22.2

21.5

6 + 3 PKD

DH4006.175.6.3

175

22.2

31.0

6 + 3 PKD

For the use in angle grinders and concrete grinders
Polycrystalline Diamond (PCD) A polycrystalline diamond (PCD) is a high-quality culling material and is used for the stone, wood, plastic and for non-ferrous machining. The PCD is made of different-sized diamond crystals by a sinter process. Thus, the PCD is extremely hard and wear resistant. It is ideal for removing coatings of all kinds.

For more information contact the AccurA Team on 01 6105055 or email info@accura.ie