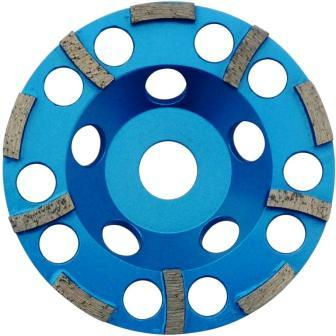 DH4907 Perforated Wheel Concrete
Original price
€0.00
-
Original price
€0.00
Specifications:  T-shape for quick and easy removal of coatings on concrete surfaces in one operation. Very big suction holes for a quick dust extraction. Cup Ø180mm Oat version for Flex-and Bosch-machines. Cup Ø150mm with Ø19 mm hole suitable for Hilti-machines.
Applications: concrete, screed, granite and remains of colour, epoxy and synthetic materials
Part No

Grinding Cup

Segment #

Ø Cup mm

Ø Hole mm

Height mm

DH4907.125AB

125

22.2

21.0

4,8 – 5,0

DH4907.125C

125

22.2

21.0

4,8 – 5,0

DH4907.180AB

180

22.2

21.0

4,8 – 5,0

DH4907.180C

180

22.2

21.0

-
AB = for abrasive materials, C= for concrete, granite  
For the use in angle grinders and concrete grinders
Polycrystalline Diamond (PCD) A polycrystalline diamond (PCD) is a high-quality culling material and is used for the stone, wood, plastic and for non-ferrous machining. The PCD is made of different-sized diamond crystals by a sinter process. Thus, the PCD is extremely hard and wear resistant. It is ideal for removing coatings of all kinds.

For more information contact the AccurA Team on 01 6105055 or email info@accura.ie