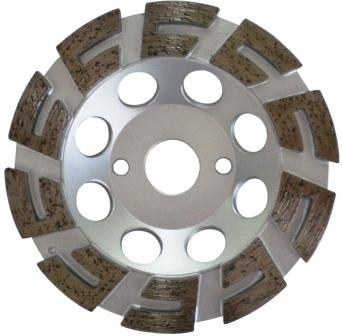 DHT SDC 180 Turbo Swirl Cup
Original price
€0.00
-
Original price
€0.00
Specifications
These Turbo Swirl cups are excellent choice offering speedy grinding of concrete and light coatings, removing layers and imperfections very aggressively in preparation for applying coatings or floor coverings. Works very well with our dust shroud when fitted to an angle grinder.
Part No

Grinding Cup

Segment #

Ø Cup mm

Ø Hole mm

Height mm

DHT TSC 180.06.24

180

22 - 23

21.0

6mm x 24

DHT TSC 180.10.24

180

22 - 23

21.0

10mm x 24
For the use in angle grinders and concrete grinders
Polycrystalline Diamond (PCD) A polycrystalline diamond (PCD) is a high-quality culling material and is used for the stone, wood, plastic and for non-ferrous machining. The PCD is made of different-sized diamond crystals by a sinter process. Thus, the PCD is extremely hard and wear resistant. It is ideal for removing coatings of all kinds.

For more information contact the AccurA Team on 01 6105055 or email info@accura.ie