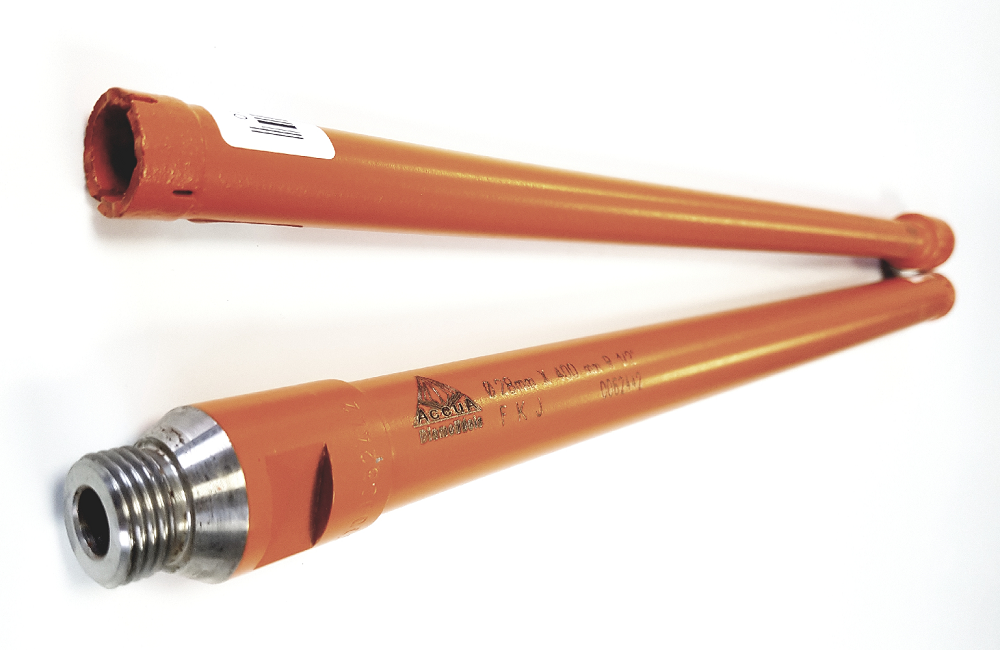 WDCC PCA - Wet Diamond Core Crown Ring ½" BSP(M) 300mm Long
Original price
€35.00
-
Original price
€75.00
Premium Wet Diamond Core Crown Ring - 11mm  300mm L  ½" BSP (M) Thread
Male Thread (From 10mm to 45mm )
Applications: Hard Concrete, Medium Concrete, Reinforced Concrete, Poured and Shuttered Concrete with Hard aggregate. Cast and Hollow Core, Brick and Block including Engineer Block and Brick.
These are our Premium Level Diamond Crown Bits which are unbeatable against all premium core bits supplied by others. The value is in the Diamond Concentration and precious metal bond, the quality of the diamond and the generous height of 11mm set in a Crown Ring.
Some companies offer a 10mm Segment height or an 8mm segment height but in reality the Diamond may only be at the top of first 6/7mm leaving resulting in the core wearing extra quick near its end of life.  AccurA Diamond believe in offering true value transparency, by giving the user exactly as he has requested.
The WDCP PCA Core Bits are 300mm effective length for drilling with a ½" BSP Male thread to suit specific core drills such as EIBENSTOCK/BAEIR/MAKITA/DEWALT/ MILWAUKEE will fit directly on a WEKA and most other Core Drills. The bits can be extended by using extension bars. These are not for use on SDS or any other Driil types other than a  Professional Diamond Core Drill with IP Rated Water Feed and Rotary action supported by a Slipped Clutch System for safety.
Some Hilti Drills require an Adaptor please see our Adaptors to allow use of our core bits and other core bits on this site under adaptors.
For any assistance or further information please contact a member of the AccurA Diamond Experts Team on 01 610 5055 or email info@AccurA.ie
*Also Available in 1¼" UNC (F) Female Thread Fitting find on this site.
**For a bespoke Diameter and Length- Longer or shorter please contact the AccurA Team as this is a special order or simply Extend the length by adjoining extension bars found on this site.