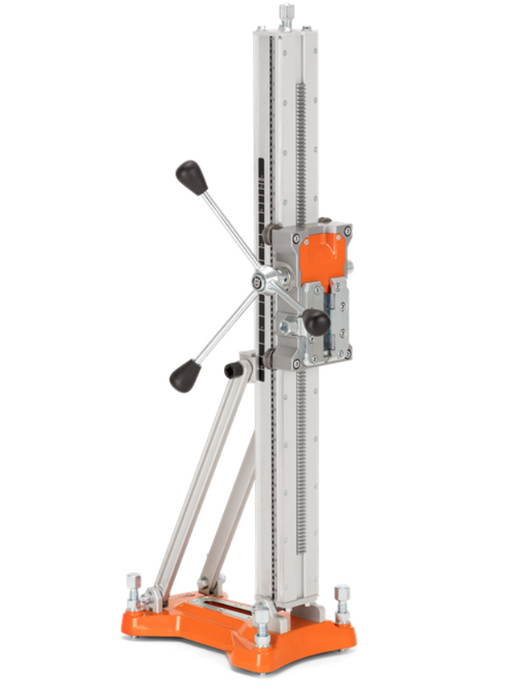 DS500 - Large Core Drill Stand
Original price
€0.00
-
Original price
€0.00
Husqvarna DS 500- Large Core Drill Stand 
The DS500 is the largest drill stand in the Husqvarna core drill stand range, designed for larger sized motors/cores and more demanding drilling applications.
DS 500 is a medium-size drill stand, suitable for a wide range of professional core drilling operations. Combines high stability and sturdiness with surprisingly low weight. The quick connection features and low weight make handling easy and efficient. The slim-design carriage with optimised gear ratio works exceptionally well with Husqvarna DM 280, DM 400/430 and similar high-powered 1-phase drill motors. Recommended for drill bit diameters up to 500 mm.
Durable, sturdy and portable
The DS500 is made of steel, magnesium and aluminium, resulting in an exceptionally robust product whilst still being lightweight enough to be portable.The magnesium base plate is reinforced with steel to ensure sturdy anchoring, allowing the body of the stand to be lighter weight.
Easy to install and operate
Attaching and detaching the drill motor (sold separately) is easy thanks to the quick-release coupling, and it's easy to set up and adjust. Removal of the carriage from the column is simple.
Precision and performance
The DS500 is built for precision and stability. Your drilling performance is accurate thanks to the zero-play hinge design and steel-reinforced extruded aluminum column
Versatile drilling 
The DS 500 is suitable for vertical and horizontal drilling, as well as consistent stitch drilling. Husqvarna drill rigs are relied upon for drilling ventilation channels and holes for pipes and cables.
Maximum Bit Capacity 500mm
Weight 26kg
For Pricing and other information on any of our products call or email one of our experts from the AccurA Team 016105055 info@AccurA.ie