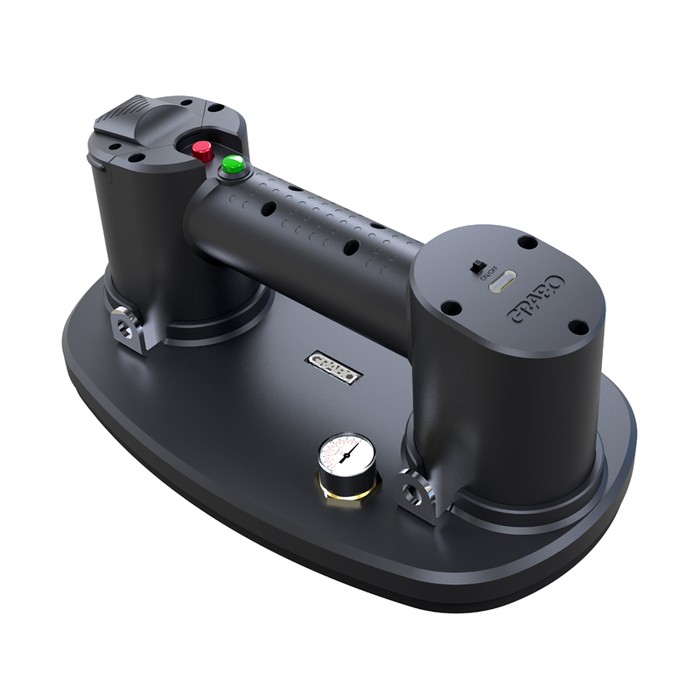 GRABO Suction Cup - Powered Vacuum Lifting Kit
Original price
€25.00
-
Original price
€329.00
Kit Includes Bag, Charger, Battery and Seal
GRABO is the world's smallest portable electric vacuum lifter. GRABO is a fantastic tool for all construction businesses and workers.  Portable, easy to use and powerful, as such it is quickly becoming an essential tool.  Not convinced?
Now comes in Plus  & Pro versions.
Grabo has a unique seal which allows the tool to adhere to rough, etched surfaces.  The maximum surface texture to which Grabo can attach to depends on Profile roughness parameters (the geometry of peaks and valleys in the material), but is generally limited to an amplitude of about 2.5mm (0.1 inch).  This capability allows Grabo to create a seal with most patterned tiles, pavers and other types of construction materials such as drywall, plasterboard, slabs, tiles etc.
We have tow options the Grabo Plus and the Grabo Pro both capable of the same lifting weights of up to 170kg.
Lift up to 170Kg
90 Minutes Continuous use with a fully Charged Battery
2 Hour Charge Time
30 Days Battery Stand By
Garbo Pro has a digital readout and auto on off and is slightly more expensive than the plus which has manual on/off and monolog display.
Both Grabo come with a Kit Bag, Battery, Charger and a Seal, but we recommend adding these items in multiples depending on your needs for example the seals can tear or rip and also over time do tire out so a replacement seal is advised particularly in gritty environments such as paving. 
ROUGH ESTIMATION OF THE LIFTING FORCE OF GRABO – THE WORLD'S SMALLEST PORTABLE VACUUM LIFTER
| | | | |
| --- | --- | --- | --- |
| | Perpendicular Hold | Parallel Hold | P/P Ratio |
| Glass | 170kg (375lbs) | 120kg (265lbs) | 0.7 |
| Metal | 110kg (242lbs | 110kg (242lbs) | 1 |
| Plastic | 100kg (220lbs) | 100kg (220lbs) | 1 |
| Wood | 100kg (220lbs) | 65kg (143lbs) | 0.65 |
| Ceramic Tile | 170kg (375lbs) | 120kg (265lbs) | 0.7 |
| Rough Concreate | 80kg (176lbs) | 80kg (176lbs) | 1 |
| Dry Wall | 75kg (165lbs) | 65kg (143lbs) | 0.87 |
| Rough Slate | 80kg (176lbs) | 80kg (176lbs) | 1 |
WHAT SURFACES DOES GRABO GRAB?
Timber Sheets
Plasterboard
Doors
Car/ Truck Windscreens 
Manhole Cover
Concrete paving slabs
Sand stone slabs
Flagstone
Textured tiles including Porcelain Paving slabs and large format tiles
Textured glass
Quartz
If you would like to discuss this item further or explore other options outside this scope then please do speak with a Member of the AccurA Team, who'll be happy to give you expert advice, please call 016105055 or email info@accura.ie