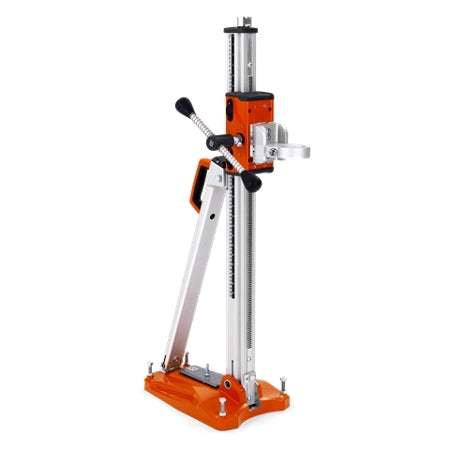 Husqvarna DS250 - Medium Core Drill Stand (Dual)
Original price
€0.00
-
Original price
€0.00
Husqvarna DS 250- Light Core Drill Stand 60mm Collar
Husqvarna DS 250   
The DS 250 is the mid-sized drill stand in the new Husqvarna drill stand family. This lightweight stand made of aluminium has wheels on the base plate, and the base plate is combined for both vacuum and anchoring. The screw jack on top of the column enables drilling in floors and ceilings.
Features Husqvarna DS 250
Being light, compact and wheeled, the stand is easy to transport and install.
Two-speed carriage gear box lets you choose crank speed for optimal performance, depending on application.
Integrated vacuum base for fast and easy setup without anchoring.
Equipped with guide rollers for stable and accurate drilling as well as cleaner and straighter holes.
The carriage has a universal quick connection plate for fast installation, and it fits most products on the market.
The back support is clamped to the column with a patented rigid solution, for stable drilling.
All adjusting screws on base plate, carriage and back support can be adjusted with the supplied feeding handle.
The stand has a jacking screw on the top for easy clamping of the stand.
The base plate can also be used as a vacuum plate.
Optional Extra for Hand Held Drill  quote ADAPTOR DS 250 - 581 25 71-01 as part number.
TECHNICAL SPECIFICATION
Max drill bit diameter 250 mm / 9.84 inch
Travel length 685/0mm/ 26.97/0 inch
Suitable for DM 280, DM 230 and other Makes/Models 
For Pricing and other information on any of our products call or email one of our experts from the AccurA Team 016105055 info@AccurA.ie