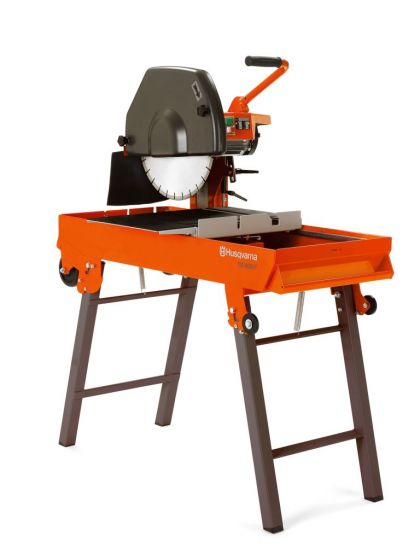 Husqvarna TS400F 16" Masonry Saw c/w Blade - 110V Electric
Original price
€1,399.00
-
Original price
€1,399.00
Masonry Wet Table Saw
TS 400 F is an efficient universal masonry saw with high cutting capacity for all kinds of bricks and building blocks. With this table saw you get a maximum cutting depth of 125 mm in one pass or up to 230 mm by step cutting. You can easily plunge or bevel cut at 45 degrees for maximum versatility. The robust single-piece frame with integrated conveyor rails gives great rigidity and provides longer product life. The machine is easy to handle by one person thanks to the foldable legs.
The Husqvarna TS400 masonry saw has been developed for the precise and efficient cutting of bricks and building blocks.
With a sturdy metal frame and integrated conveyor rails, the TS400 is built for everyday challenges. Lightweight legs fold away to reveal a set of 4 transport wheels. The included water pump enables wet cutting or you have the option to cut dry.
The TS400 is supplied complete with a genuine Husqvarna 400mm Elite Cut GS50 diamond blade.
Set up and go
With semi-automatic folding legs and a lightweight but sturdy frame, the TS400F is easily set up and operated by one person.
Choose your cut
With a precisely adjustable cutting head, you can cut as deep as 125mm in one pass or up to 230mm deep when step-cutting.  Set your angle of 90º or 45º for professional plunge cuts and bevel cuts. You can cut dry with this machine but we recommend wet cutting. The TS400 is fitted with a quick-connect water pump.
The TS400 can be used with 16"/400mm and 14"/350mm diamond blades, and this saw will only fit blades with 25.4mm bore
As mobile as you are
As well as folding legs, the TS400 has a full set of 4 wheels so you can easily transport and store it wherever you need.
Saw Specifications TS400F
MPN                                           965148107             
Voltage                                       110V Electric                  
Fuse/Generator                         32A/6KVA             
Maximum Cutting Length          700mm                 
Blade Capacity                            350/400mm          
Maximum Cutting Depth mm    100mm/125mm/( 230mm Material Flipped )         
Weight                                        96kg
Tilt Head Capacity                      45°
If you would like to discuss this item further or explore other options outside this scope then please do speak with a Member of the AccurA Team, who'll be happy to give you expert advice, please call 016105055 or email info@accura.ie