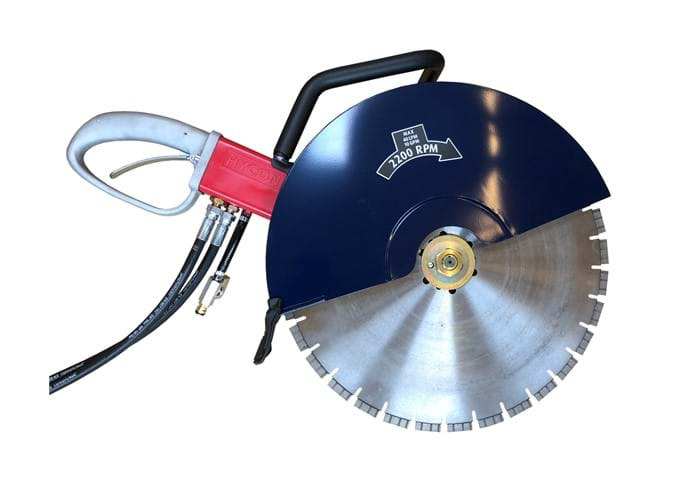 HYCON Handheld Hydraulic Cut-off Saws HCS14/HCS16/HCS18/HCS20
Original price
€0.00
-
Original price
€0.00
HYCON Handheld Hydraulic Cut-off Saws 14"- 20"
The HYCON Cut-off saw is a very sturdy tool intended for cutting even under the most extreme conditions. It is completely unaffected by water and dust, and all parts run in oil. The hydraulic cut-off saw from HYCON is available in four variants 14", 16",18" and 20". 
The HYCON PREMIUM-saws are built for hard use day after day - without breakdowns.
The fact, that the saw is always working and does not require service means higher profits than with e.g. a petrol saw.
The tool automatically cuts off if the disc jams which means no injury to the operator. 
All types can be used for horizontal and vertical cutting. They cut all types of concrete, steel, bricks, asphalt, etc.
 Additional features:
Low weight for operator comfort
Built-in water line.
Hydraulic-driven means no 2 stoke engine fume close to the operator.
Uses standard diamond blades - keeping costs down.
Designed for both vertical and horizontal use.
Perfect for all work conditions - dusty and wet.
With the lightweight cart, you can make straight cuts with ease.
All parts run in oil - ensuring the part's long lifetime.
High-quality Gearmotor with direct drive ensures the lowest maintenance requirements - especially compared to belt driven 2 stroke engine saws.
For underwater operation - Contact your local HYCON dealer.
Use without a Power Pack it can be powered by Hoses from an Excavator, Skid Steer or JCB and other plant with ample hydraulic flow. Please see below or search on this ecommerce site.
HYCON Oil Flow Divider - HFD: 
The HYCON HFD Oil Flow Divider replaces the need for power packs and is perfect to drive all HYCON tools on worksites where there already is a hydraulic machine like a backhoe, skidsteer, or mini excavator in place.

Simply connect the preset HFD to the Hydraulic Power Take Out (PTO) and you are assured correct flow, pressure, and rotation on saws, pumps, and other tools needed on the job site.
The HYCON oil flow divider has 3 built-in functions:
Output oil flow control by the built-in flow regulation valve.
Maximum tool working pressure ensured by a pressure relief valve.
Ensures the correct oil flow direction by a check valve.
The HYCON Motor
The unique HYCON designed motor in high-strength aluminum ensures maximum power at low weight.
A no-nonsense design - designed for each individual saw bearing customer need in mind. With higher torque and high reliability, this motor is second to none.
There are four options for deeper cutting and performance ratio, please see the below table for detailed technical specifications
If cutting floors for long periods of time Hycon offer a trolley cart with a 20 litre water tank to convert the saw into a walk-behind floor saw type cutter with scale for an accurate depth of cutting in straight lines item no 3030300  (Cart f/HCS14-HCS16-HCS18)
Technical Specifications

| | | | | |
| --- | --- | --- | --- | --- |
|   | HCS14 | HCS16 | HCS18 | HCS20 |
| Item No | 3030351 | 3030401 | 3030451 | 3030500 |
| Blade Diameter (mm) | 350 | 400 | 450 | 500 |
| Oil Flow (lpm) | 20-30 | 20-40 | 20-40 | 30-40 |
| Working Pressure (bar) | 120 | 120 | 120 | 120 |
| Max Pressure (bar) | 172 | 172 | 172 | 172 |
| Weight w/o hose/blade (kg) | 7.4 | 7.8 | 8.1 | 9.2 |
| Cutting Depth (mm) | 137 | 162 | 187 | 212 |
| Noise Level LPA (db) | 105 | 97 | 99 | 99 |
| Noise Level LWA (db) | 116 | 108 | 110 | 110 |
| Vibration Level (m/s) | <2.5 | <2.5 | <2.5 | <2.5 |
| Peripheral Blade Cutting Speed (m/s) | 47-70 | 41-80 | 36-73 | 43-58 |
If you would like to discuss this item further or explore other options outside this scope then please do speak with a Member of the AccurA Team, who'll be happy to give you expert advice, please call 016105055 or email info@accura.ie