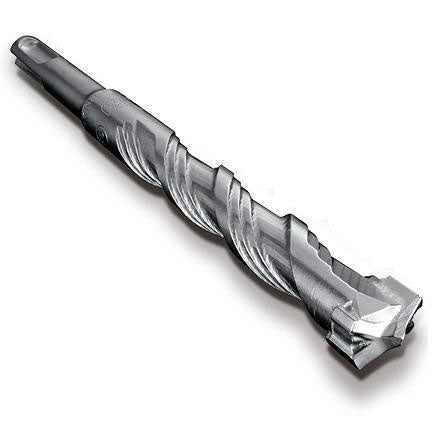 Keil- SDS (Plus) MS5 TURBOHEAD Xpro 4 Cutter Cross X Head Design 5mm-20mm D
Original price
€4.50
-
Original price
€34.50
MS5 TURBOHEAD Xpro- 5mm Diameter-20mm Diameter.    PREMIUM GERMAN MADE DRILL BITS
SDS Plus Drill Bits Cross Head. (SDS Plus 10mm Shaft Diameter)

SDS-plus is the most common by count of tools manufactured, with masonry drills from 4 mm diameter to 30 mm diameter ordinarily available. The shortest SDS-plus masonry drill bits are about 110 mm overall length, and the longest 1500 mm. Please explore your options from our tab selection
Innovative X-head design with 4 cutting edges for fast and professional work. The reinforced steel resistant hammer drill bit guarantees a high drilling speed as well as low abrasion. The special head-geometry allows optimum pilot drilling and a fast removal of drilling dust as well as remarkably less friction in the drilling hole which results in less development of heat and a low power input for the machine.
MS5 helix
The MS5 flute drills considerably faster than a normal flute. It has a longer service life and reduces the swinging and torsion forces caused during the hammer drilling. Therefore no jam of drilling dust occurs. It has a faster drilling speed and transfers the impact energy in an optimal way. The reinforced core and the rounded gradual transitions offer much more breaking strength.
Vibration Protection
Low vibration load of the "hand-arm-system" by means of significantly reduced vibration. Corresponds to the Directive 2002/44/EC of the European Community for vibration protection.
KEIL have been developing and producing drill bits for more than 50 years from their Factory in Germany. 
KEIL drilling tools are made with greatest care. R & D and QM work together with independent institutes and universities. products are made of best tempered tool steel. The carbide plate is precisely adapted for the intended use and of best quality. Drill Bits are manufactured by experienced professionals. Processes such as inert gas high-temperature brazing up to 1120° C, austempering and shot-peeing ensure a long tool life.
Please select carefully the diameter and the length you desire. If your concerned about dust, look up our Dustless Options on this site
 Need help then just call or email our Team of Experts at AccurA on 016105055  or info@AccurA.ie