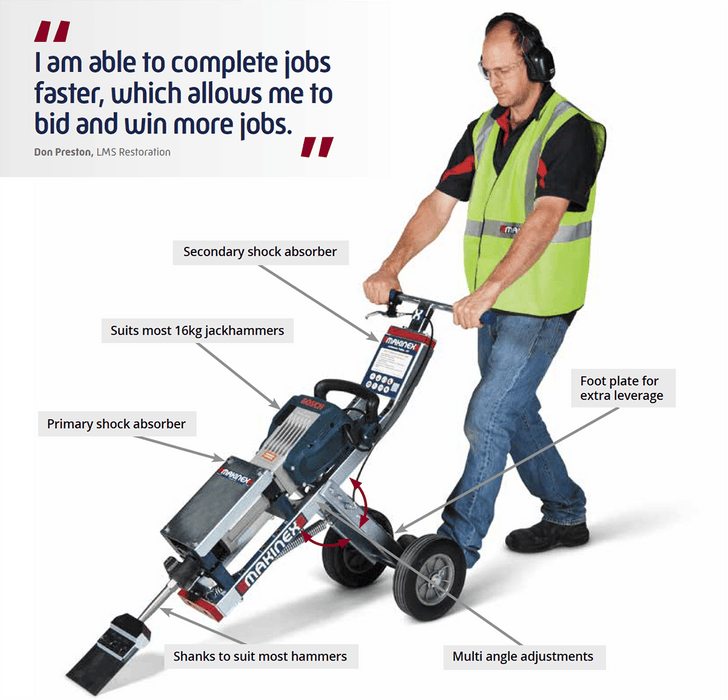 MAK JHT - Makinex Jack Hammer Trolley
Original price
€1,299.00
-
Original price
€1,299.00
For Fast Removal Of Floor Tiles, Vinyl & Cork
The Makinex Jackhammer Trolley is an innovative demolition tool for the fast and easy removal of floor tiles, vinyl and cork from concrete and wooden surfaces. It can also be used to remove residue from tile beds and for breaking rocks, blocks, concrete and sandstone.
The Makinex Jackhammer Trolley quickly removes floor tiles with some customers claiming they can do their demolition job up to 6 times faster than when using a jackhammer alone.
No more struggling or bending trying to handle heavy jackhammers! The Makinex Jackhammer Trolley carries most of the weight of the jackhammer while the user positions themselves behind the trolley and pushes it along. The ergonomic design minimizes vibration impact on the user and provides safer jackhammer operation by reducing back strain and operator fatigue.
The Makinex Jackhammer Trolley can be adjusted to 6 different positions, ranging from 20-80 degrees to suit most demolition jobs, making using a jackhammer and your demolition job easier, faster and safer.
*Jackhammer and attachments are not included and are sold separately.
Our Solutions
Removes floor tiles, vinyl and cork from concrete or wooden surfaces
Removes residue from tile beds
Assists with the correct surface preparation of the concrete slab
Breaks rocks, blocks, concrete and sandstone
Quick and easy to assemble – jackhammer clamps into the trolley
Mechanical angle adjustment to 6 different positions ranging from 20-80 degrees to suit most demolition job
Large footplate enables forward pressure to be applied improving the speed of demolition
Ergonomic design with built-in shock absorption minimises vibration impact to the user
Built to last – durable silver zinc plated frame and quality steel components
12 Month Guarantee
Weight (trolley without jackhammer)27.5kg (60.6lbs)
Dimensions (trolley without jackhammer)L 1000mm x W 375mm x H 300mm
Suitable for 16kg (35lbs) jackhammer models
Bosch GSH16, Dewalt D25901K-XE, Hilti 1000 & 1500, Hitachi H65, and Makita 1307 & 1317
If you would like to discuss this item further or explore other options outside this scope then please do speak with a Member of the AccurA Team, who'll be happy to give you expert advice, please call 016105055  or email info@AccurA.ie