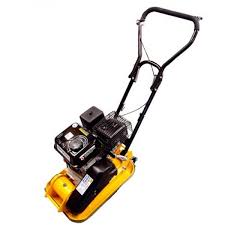 Petrol Compactor Plates 30cm/35cm Handy Loncin Engine
Original price
€75.00
-
Original price
€569.00
Handy        THLC29140 30cm
Entry Level small but yet a tough compactor plate up for the small domestic contractor who's price conscious but wants  and needs a compactor plate up for the task. Ideal for narrow footings and foundations in tight areas as well as general compaction of common site material
A high-powered petrol compactor-plate from Handy..
Boasting a 861 kg compaction-force and able to run for an hour and a half on a single tank, Handy's petrol compactor-plate is ideal for tough jobs. It is powered by an efficient 87cc four-stroke Loncin engine, and is the perfect solution for preparing the ground for patio-laying, extension-building and landscaping.
A working-depth of 20 cm with a 30 cm working-width means this model operates at 25 metres per-minute. It has a comfortable soft-grip handlebar so that you can work for longer without fatigue, and this handlebar also collapses to make transportation and storage simple.
Handy        THLC29142 35cm 

Entry Level small but yet a tough compactor plate up for the small domestic contractor who's price conscious but wants  and needs a compactor plate up for the task. Ideal for narrow footings and foundations in tight areas as well as general compaction of common site material
A powerful compactor plate ideal for tough jobs.
You can work down to 25 cm with this compactor plate, while its three litre fuel tank gives you an impressive three hour run time per tank. An incredible 1121 kg compaction-force can be achieved, making this model ideal for both domestic and commercial applications, whether preparing the ground for landscaping, patio-laying or extension-building.
The stand-out feature of this compactor plate is its high-torque, 5.5hp V-belt drive Loncin G160G engine, which is a large-displacement (163cc) four-stroke forced-air-cooled model with an OHV configuration. This results in lower fuel consumption, less emissions, plus reduced noise and vibrations. This is backed up with reliability, courtesy of its cast-iron cylinder-sleeve and a forged-steel connection-rod. 
Particularly comfortable to work with thanks to its soft-grip handlebar, the handle can also be collapsed to make it easier to transport and store. Added manoeuvrability can even be achieved with an optional wheel-kit. Once on the move, this model operates at up to 25 metres per minute and boasts a 35 cm working width, for exceptional productivity.
Handy        THLC29140 30cm
Power:        Loncin 2.7HP
Compaction:      861Kg   
Weight:               55Kg
Optional Extra Wheel Kit select THL WK30/35
Optional Extra Paving Pad select THL PAV PAD 30
Handy        THLC29142 35cm
Power:        Loncin 5.5HP
Compaction:   1121Kg
Weight:              65Kg
**Optional Extra Wheel Kit select THL WK30/35
**Optional Extra Paving Pad select THL PAV PASD 35
If you would like to discuss this item further or explore other options outside this scope then please do speak with a Member of the AccurA Team, who'll be happy to give you expert advice, please call 01 610 5055 or email info@AccurA.ie