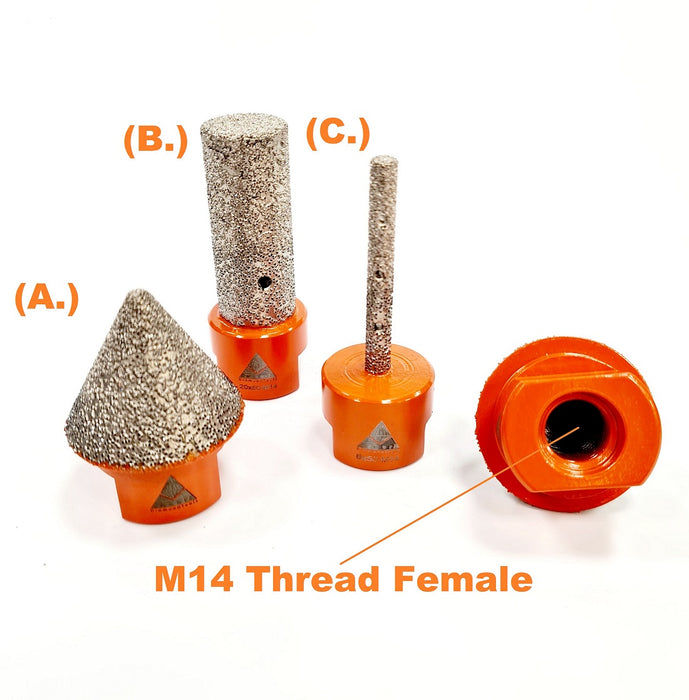 Hole Chamfer and Milling Expander Bits Profile Tools M14 Exposed Diamond
Original price
€65.00
-
Original price
€105.00
Designed for Chamfering holes and opening small holes to a larger diameter and removing unwanted material
Versatile milling bits designed to enlarge, shape and/or round bevel existing holes in Porcelain, Hard Ceramic, Granite and Marble and Concrete Products.
also suitable to easily create round side indentation necessary to accomodate pipes or electric wire lines. 
Bevel Ease chamfers and stress relieves rough holes in glass, ceramic and porcelain tiles.
Diamond bit for a smooth, high-end finish.
Very useful to reduce the risk of cracking with standard and large format tiles subjected to tension (ex tightened plumbing, led lights etc)
Very useful to improve the edge finishing of exposed holes
these are a save money tool because with just one standard core bit and one profile you are able to create many different hole sizes, without needing to buy several different core bits.
Manufactured with top quality raw materials and high end production processes to grant outstanding performances.
 Used with any standard grinder M14 Thread.
No adaptors needed. unless you have a drill
Recommended for Tile Setters, General Contractors, Plumbers and Electricians.
If you would like to discuss in greater detail please email info@accura.ie or please call on of our dedicated team 01 610 5055
Attention!NOT designed to make holes. ONLY designed to shape and enlarge existing holes.