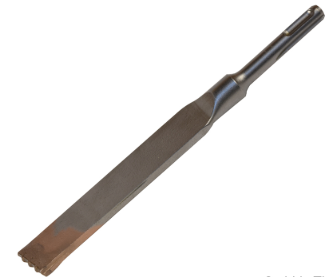 SDS Plus Brick Remover Chisel G230B4BC
Original price
€39.00
-
Original price
€39.00
SDS Plus G230B4BC Brick Remover Chisel 
Width 30/6mm - Length 220mm
Whether it's a general purpose chisel or an application specific tool required, our diverse range has chiselling with an SDS Plus machine covered.
Our innovation chisels include problem solving designs such as the cranked shaft Channelling Chisels which rapidly produce channels in masonry. The popular SDS Plus Scutch Comb Chisels are great for masonry dressing whilst the Carbide Tipped Raking Chisel is designed with a solid tungsten carbide strip insert for the ultimate performance in material removal.
Hammers out the mortar around individual bricks or blocks to allow brick removal
Ideal for applications such as installing brick lights, air bricks, replacing damaged brickwork and cavity access etc.
Carbide tipped for extended life
6mm wide cutting edge.
Minimises chance of brick damage.
SDS Plus G230B4BC Brick Remover Chisel 
Width 30/6mm - Length 220mm
All our Chisels fit mainstream professional power tool brands and most own brand DIY market tools.
Did you know?
SDS = Slotted Drive System was invented by Bosch in 1975.  There are two Standard Sizes - Plus and Max
SDS-Plus is the most common by count of tools manufactured, with masonry drills from 4 mm diameter to 30 mm diameter readily available.   The shortest SDS-plus masonry drill bits are about 110 mm overall length, and the longest is 1500 mm.  There are many different use for the Chisels and AccurA carries the full range. 
Talk to a member of the AccurA team on our SDS range we have available on 01-6105055 or email info@accura.ie