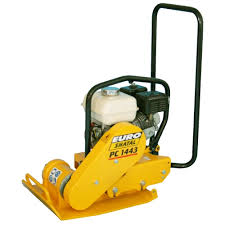 Shatal -PC 113 35cm / PC1443 40cm Plate Compactors-Petrol Honda Engine
Sold out
Original price
€0.00
-
Original price
€0.00
Shatal Vibratory Plates Compactors
Perfect for a wide variety of applications

Very easy to handle and operate

Suitable for compacting granular materials and mixed  materials with some cohesive content, hot or cold asphalt and paving bricks.

Compact enough with Handle folded down fits in standard estate car

Includes Transport Wheels for easy manoeuvrability

Optional Water Tank (Asphalt Use)

Optional Paving Pad
Very Popular with Rental Companies,Landscape Industry and General Builders
Shatal Engineering Ltd., Founded in 1962, is a leading global producer of high quality light construction equipments. 
All our products are superiorly engineered using advanced design and manufacturing methods and are distributed on a global scale. 

Shatal products are produced using the latest manufacturing techniques and conform to stringent ISO 9001 quality standards. 
The entire production process, from selection of raw materials, manufacturing, final inspection and delivery logistics is strictly monitored by quality control to ensure the highest standard of quality in compliance to CE standards according to ISO9001. 

The-Euro Shatal brand name has a strong market presence in Europe and operates in 30 countries.
Tough, reliable and easy to use, our products are ideally suitable for demanding construction work. In other words they are Simply Built Stronger. 
Shatal PC113      35cm
Power:                 Honda GX160 5.5 HP
Compaction:      1100Kg
Weight:               75Kg
Shatal PC1443   40cm
Power:                 Honda GX160 5.5 HP
Compaction:      1400Kg
Weight:               84Kg     
 Shatal PC2014  40cm
Power:                 Honda GX160 5.5 HP
Compaction:      2000Kg
Weight:               99Kg
If you would like to discuss these compactors further or explore other options outside this scope then please do speak with a Member of the AccurA Team, who'll be happy to give you expert advice, please call 01 610 5055 or email info@AccurA.ie