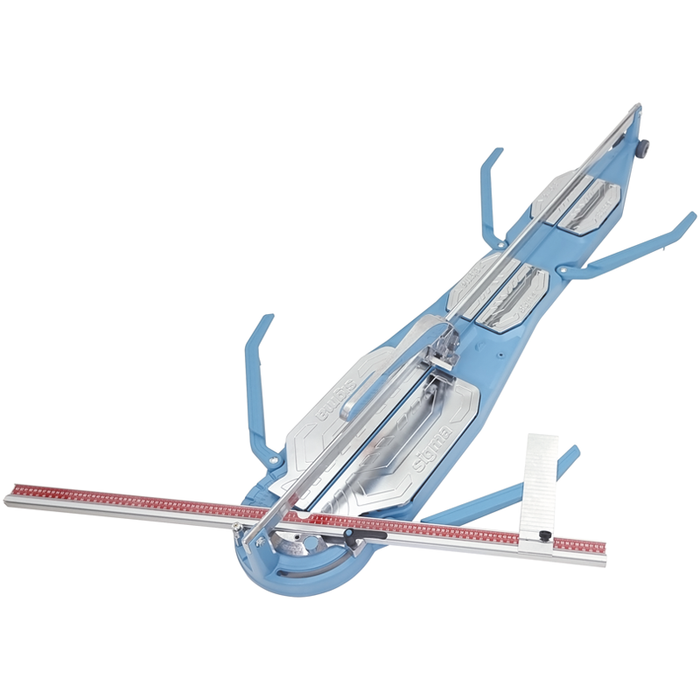 Sigma Manual Tile Cutter - SIG 155cm - SIG-ART-4FN
Original price
€989.00
-
Original price
€989.00
The change from scoring to breaking position is achieved by a small vertical movement of the hand-grip.
Featuring a large tile support table and swivelling measurement bar which supports the tile, it can rotate 45° in both directions and is pivoted at the centre of the cutting line, allowing the real measurement of the piece to be cut to be obtained.
A 45° second measurement scale gives the length of the diagonal and the rapid positioning button makes it easier to set to standard angles far quicker.
Pushing away from the lateral stop measurement bar rather than pushing to it, allows a much stronger scribe mark on the material, which in turn allows particularly thick or difficult materials to be easily cut, with the added advantage of the lateral stop measurement bar being conveniently close to the operator.
Precision, practical use and low weight are the main characteristics of Sigma tile cutters. Suitable for cutting all types of commercially available tiles.
Made from high-resistance aluminium alloy and steel for great rigitity. The special shape of the grip allows tiles to be cut at any point.
Plastic fittings on the base of the breaker, to prevent marks on the material being cut.
Supplied with a scoring wheel that is a long life and bearing mounted made from tungsten carbide.
The tile is snapped by simply pressing down with the breaking feet near the edge of the tile.

Most spare parts available.
If you would like to discuss this item further or explore other options outside this scope then please do speak with a Member of the AccurA Team, who'll be happy to give you expert advice, please call 016105055 or email info@accura.ie
V.A.T is calculated at time of checkout