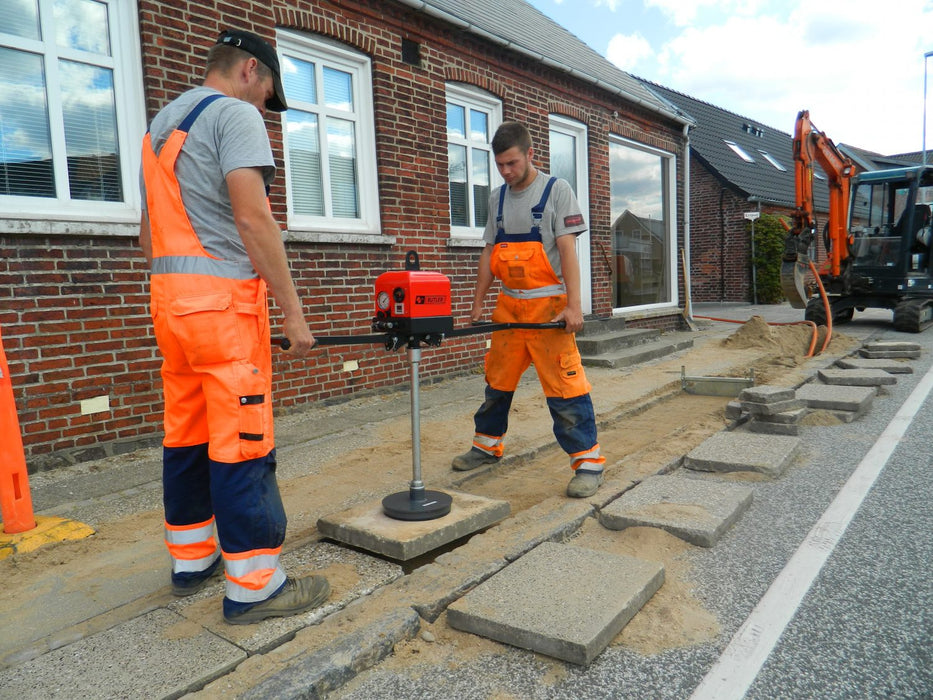 Slab Lifter - Vacuum Slab Lifter 1-2 Man 160kg/200kg Lift Capacity
Original price
€0.00
-
Original price
€0.00
Made in Denmark

AL - Vac® Handyman Super



Ideal lifting solution for Landscapers and civil contractors who are conscious  of social distancing. This lifts 10 kg more than its nearest competitor and also stands  taller  reducing the operative to fall into bad habit's such as back bending. No more time wasted on redressing and levelling beds due the the allowance of exact positioning of the slab, this also means no more pinched fingers which reduces injuries.
The AL - Vac® Handyman Super is a battery powered vacuum lifting machine with a maximum load capacity of 160 kg. The Handyman Super is designed to either be used manually by two persons or to be suspended from the bucket linkage of a small excavator. The Handy Man can be stripped down to give more accuracy when lifting with aid of an excavator and can be used with one or two handle option as you require.
Al - Vac Butler®
The AL-BUTLER 200 is a small vacuum lifter that is lift-able via a crane, excavator or 
manually
 with handles and extension pieces
. The vacuum system, a radio-controlled suction and release of the load. The safe working load for this machine is 200kg which is 40kg more than its brother and 50 kg more than its nearest competitor. Yet, this is dependent on the ability of the suction pad and the safe working load. 
The AL-BUTLER 200 like its brother the Handyman Super can work with many different suction pads, thus creating a versatile range of work
.
The vacuum lifter has a secure safety system installed within. 
A system that consists of a manometer and acoustic warning signal that turns off when the load is safe to lift and is also powered by a built-in battery
.
The Handyman Super has an in-built device that extends the battery life to a full shift. Additionally it features a large accumulator tank resulting in a faster pick up of a concrete product. Acoustic as well as visual warning of low vacuum pressure.
Charging is via 12v power from a work vehicle or a standard domestic plug.
With a wide range of  quickly interchangeable vacuum heads the Handyman Super is the perfect tool for smaller tasks.
Porcelain Tiles
Tiles
Large Format Tiles
 Kerbs
Concrete Slabs
Natural Stone

Steel Road Plates-Sheets Road Coverings Temporary Excavated Road Covers
Cementuos Fibre Boards
Most Flat Non Porous Materials
| | |
| --- | --- |
| Battery: | 12 volt |
| Pump capacity: | 32,5 l/min |
| Battery capacity: | 9 AH |
| Height x length x width: | 1040 x 195 x 265 mm |
| Total weight: | 13 kg. |
If you would like to discuss this item further or explore other options outside this scope then please do speak with a Member of the AccurA Team, who'll be happy to give you expert advice, please call 01 610 5055 or email info@AccurA.ie