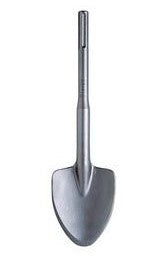 SOLIDA SDS MAX Spade Attachments for Electric Power Tools
Original price
€79.00
-
Original price
€79.00
SDS MAX Spade Tool for 
Frost Hardened or Compacted Soil 
Very Handy for Landscaping Contractors, General Builders, Civil Contractors and Municipal Utility operative's who need to dig and break clumpy hard or even frosted hard soil, clay in areas the smallest mini excavators has difficulty accessing.
AccurA Diamond have selected the best and unique innovative tooling for this application, we supply the following from Solida
Standard and Off Standard Chisels in Point's , Flat and much more, We have solutions for cutting and breaking out hard compacted soil where mini excavator's even have difficulty accessing, Frost hardened soil can slow up a days work and isn't the most pleasant to dig manually sometimes causing foot and ankle injury to the worker. This is where Solida come in, we have the solution.
We have solutions for Ramming Posts into the ground, Tamping in compact areas and much much more.
Please select from the many  variants on this site. 

AccurA Diamond are proud Sole Importers Distributor's and Strategic Partners for Solida-Werk GMBH Germany. 
Insertion tools for  electric hammers
No matter whether you need insertion tools for hydraulically, pneumatically or electrically driven hammers, SOLIDA is always your partner for professional tools.
For almost every hammer type of insertion tool.
SOLIDA tools are available for most types of hammers throughout the world. No matter who the manufacturer of your hammer is, we will supply the tool of your choice with the matching shank end. In everything we do we first think of the best working end for your practical application, saving your imagination. 
If you would like to discuss this any of the items further or explore other options outside this scope then please do speak with a Member of the AccurA Team, who'll be happy to give you expert advice, please call 016105055 or email info@accura.ie