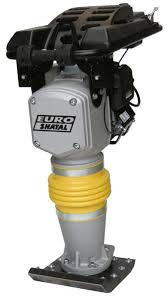 Tampers- Jumping Jack Shatal TC63 Honda Petrol-4 Stroke 120GX R
Original price
€1,995.00
-
Original price
€1,995.00
Tampers are used for tight area compaction and small resurface repair works. commonly and affectionately called Jumping Jacks or Rammers
Shatal offer this model with two foot size options 7"/185mm and 9"/ 230mm. The ability to transport this Tamper is a great addition due to its unique four stroke engine Honda GX120R.
Hand- Arm Vibration: Only 6.7 m/s² (TC63)
Easy access clutch, for easy maintenance (TC63)
Non-leaking fuel cap
High jump for more compaction
Easy access choke
Fully covered- low noise for operator
Stabilised machine- to prevent "side jumps"
Only 36 cm wide guiding handle
3.6 HP Honda 4 cycle gasoline engine.
centrifugal force: 14.3 kN
weight: 62 kg
width: 280 mm
Shatal Engineering Ltd., Founded in 1962, is a leading global producer of high quality light construction equipment. 
All our products are superiorly engineered using advanced design and manufacturing methods and are distributed on a global scale. 

Shatal products are produced using the latest manufacturing techniques and conform to stringent ISO 9001 quality standards. 
The entire production process, from selection of raw materials, manufacturing, final inspection and delivery logistics is strictly monitored by quality control to ensure the highest standard of quality in compliance to CE standards according to ISO9001. 

The-Euro Shatal brand name has a strong market presence in Europe and operates in 30 countries.
Tough, reliable and easy to use, our products are ideally suitable for demanding construction work. In other words they are Simply Built Stronger. 
If you would like to discuss this Tamper/Jumping Jack further or explore other options outside this scope then please do speak with a Member of the AccurA Team, who'll be happy to give you expert advice, please call 01 610 5055 or email info@AccurA.ie