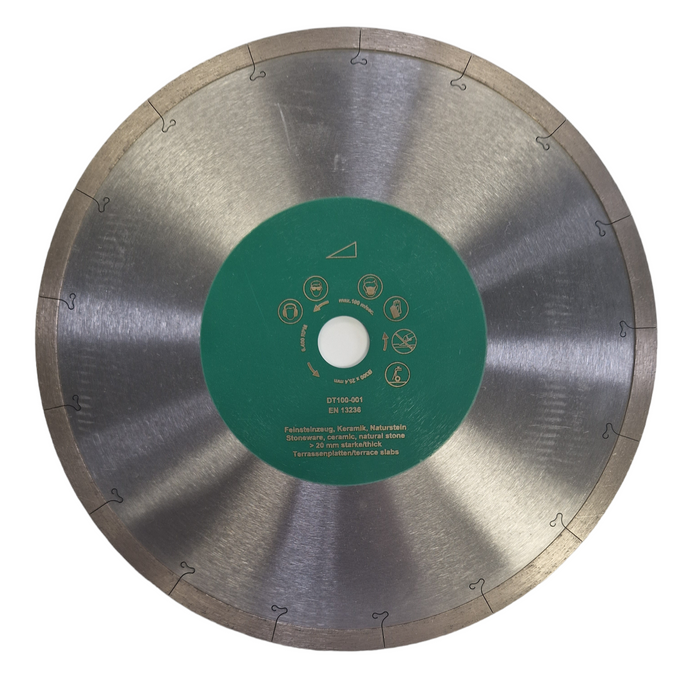 SP-PCT Super Premium Porcelain Tile Blade
Original price
€179.00
-
Original price
€279.00
Specialist blade for cutting extremely hard porcelain stoneware with a thickness of 20mm–30mm cm.
We developed this blade to offer the best cutting solution offering the best cutting ability  in a n answer to the many customers who needed better. 
Thus blade is composed of the very best in  quality fine synthetic diamond grit selection, a higher concentration of Diamond and a very complex bond/matrix structure Uniquely formulated and exclusively supplied  to us.
Fast cutting with excellent service life in the hardest and most challenging porcelain slabs. This blade has been accredited by some of our Long Standing Customers as a "Game Changer" due mainly to this blades ability to cut faster and last longer. There is still a bit of redressing involved to avoid stalling or glazing the blade when cutting ,but not as often. this blade ensures complete use untill the very last millimetre. Optimising your output and your useage to a maximum. 
This blade  boasts unique fine laser cuts for optimal cooling.
High quality segment with an almost continuous rim guarantees a very clean and chip free cut.
High quality core blade for a straight cutting line.
For the use in table and bridge saws only. For wet cutting only, NOT suitable for any handheld power cutters especially petrol driven units or angle grinders.
We supply these blades for moat wet saw manufacturers makes and models, in the most common size options in 250mm, 300mm and 350mm all with a 25.4mm centre arbour hole to fit snuggly on a spindle of 25.4mm.
Application:
Outdoor Porcelain Slabs, Extremely hard stoneware, Ceramic composite panels and granite slabs and many more materilas in this spectrum. 
Quality:
Super Premium
V.A.T is calculated at time of checkout
If you would like to discuss this item further or explore other options outside this scope then please do speak with a Member of the AccurA Team, who'll be happy to give you expert advice, please call 016105055 or email info@accura.ie