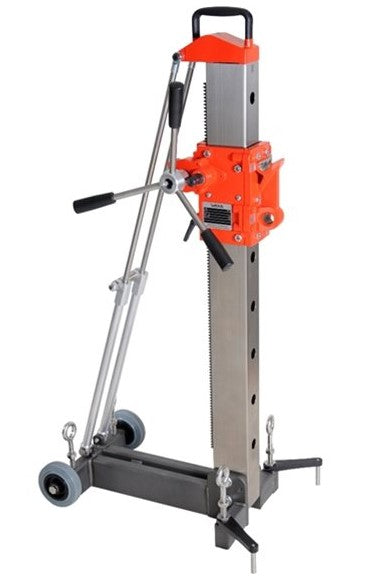 Weka KS50 (S) Diamond core drill stand / Rig
Original price
€0.00
-
Original price
€0.00
Weka KS50 Diamond Core Drill Stand / Rig
This Item is not available online, please contact a member of or Expert Team at AccurA Diamond who'll be happy to advise you on the many options associated with this product, Call  016105055 or email info@AccurA.ie
The Weka K50 Series Drill Stand Core bores up to Ø 500mm, stand base made of steel or aluminum, stable sliding guide made of wear-resistant compound material ensures precise drilling, easy mounting of the drill thanks to the quick-change system.
Stable, torsion-resistant drilling column made of rustproof stainless steel

Extremely wear-resistant and low-maintenance slide guides and slide bearings made of compound material

Feed housing slides absolutely free of play

Quick release plate (accessory) for fastening the drill

Fine feed to increase the feed force

Combination foot (KS50) for fixing dowels or vacuum

Rack made of wear-resistant steel

Ergonomically designed handwheel can be changed without tools, easy selection of the operating side

Level (KS50) and adjusting screws for precise alignment

Transport rollers and two adjustable swivel feet (KS50)
The KS 50 is characterized by a wide range of applications. Drilling for medium and large diameters in the entire construction area can be carried out quickly and safely.

The combination foot with vacuum attachment enables use on special surfaces, such as tiles.

Best suited for WEKA diamond core drilling machines type DK26, DK32, SR25, SR38, DK42 and DK52.